We are thrilled to announce that one of our completed projects was featured on the Houzz website.
Built on Bay Lake, Minnesota, this 6,483 square foot house includes five bedrooms, six bathrooms, a two-bedroom cottage, and a boathouse poised to accommodate visits from their wide circle of friends and family.
Beloved Home Highlights
Being by the lakeside, nautical themes are highlighted through the build and design, along with a mix of modern-day luxuries and cottage charm. The interior designer and owner of Lenox House Design, Jennifer Horstman, was the interior designer for this project, and Charlie & Co. Design was the architect. We've collaborated with both individuals and businesses before and enjoy a strong working relationship.
Because the homeowners wanted to feature precious family heirlooms and antiques, they were heavily involved throughout this process. We are thrilled that they love the result.
Lakeside Living Room
This living room provides a gorgeous spot for the family to gather around to look out at the views or sit around the fireplace crafted from stones hand-picked from the local stone yard.
Because the homeowners love entertaining friends and family, we knew this house would soon fill with people. These spaces were specially designed to feel comfortable, regardless of how many people are over.
Causal and Formal Dining Areas
There is a breakfast room and a formal dining room for the family to savor meals together.
This blue and white kitchen is heavily influenced by the French Quimper tiles owned by the family and featured behind the range. Prominently placing these tiles in a central location is a reminder of family in a space that's often filled with it. In a special nod, these tiles reappear in the backsplash of the buffet area.
The custom support kitchen provides extra space to prepare meals for large family and friend gatherings. Complete with custom cabinetry, Shaker-style doors, and reclaimed glass doors from the original cabin, this room showcases the homeowner's beloved collection of antique dishes.
Paddle Banister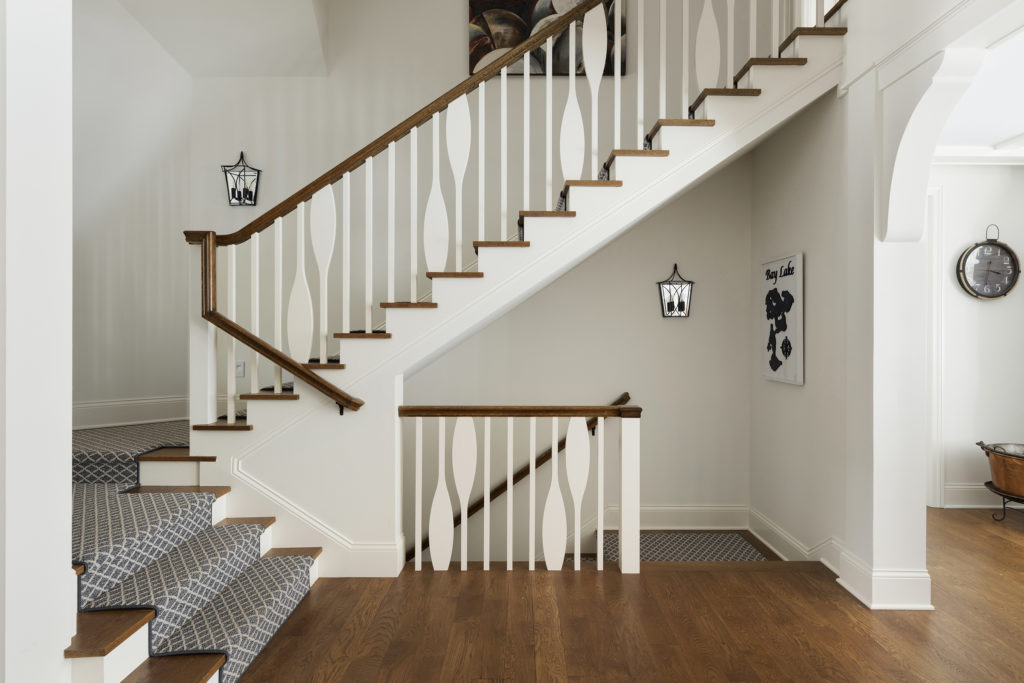 The paddle details on the staircase banister are another nod to the family's love of the water.
A Suite of Dreams
The primary bedroom and bathroom boast beautiful shades of complementary blues. The en-suite bathroom includes, among other amenities, a soaking tub, double vanity, and heated tile floors. The homeowners enjoy a lakeside view, as well as plenty of natural light. And while they love entertaining their friends and family, this suite provides a necessary respite.
Ahoy! Nautical Basement Bar
The lower-level family room is any nautical lover's dream. This kitchenette/bar area offers a range of accouterments including a customized built-in bar complete with original Chris Craft boat seats, vintage steer wheel, original cleats, and authentic gauges. Beyond these boat seat-inspired stools, there are plenty of places for little ones and their parents to spread out and relax.
A Cozy Cottage

The icing on the proverbial cake is the adjacent cottage, designed to sleep up to six, with its own kitchen and bathroom for added privacy. In keeping with the nautical theme, this matching house ensures everyone who visits this magical lakehouse has a place to spread out and relax.
Build Your Own Custom Home
Our whole team is honored to have one of our designs featured on the Houzz site. Read the full article on their website.
If these pictures are inspiring you to invest in your next home, contact us! Whether you're a vintage lover looking to highlight your own family's ancestry or you want a sleek, modern Minneapolis construction we can deliver.