One of the most important parts of designing your new home is picking out your luxury kitchen appliances. But with so many options out there how do you even begin the process of choosing the right one? Not to worry, our team is here to guide you through the process every step of the way.
How to Choose Appliances
Determine Your Needs. Are you a culinary expert or are you planning to entertain quite a bit? A double oven might be in order. Are you a couple with a combined passion for wine? You might enjoy a separate temperature-controlled wine refrigerator. Figuring out your specific wishes will help you select the right cooking appliances for your kitchen.
Research Your Options. Once you know what you're looking for, talk to friends and family about appliances they love. Read testimonials and look online to learn about all of the luxury appliances available these days.
Let Your Custom Home Builders Guide You. At ADŌR Bespoke Homes, we're happy to offer our recommendations and guidance, while making sure that you're the one with the final say. We want you to feel both supported and in control when it comes to your home design.
Kitchen Appliances to Pay Attention To:
Refrigerators/Freezers. This can easily become the mainstay of your kitchen. For the best quality, look for a dual-compressor unit— they tend to keep food fresher for longer. Alternatively, separating your fridge and freezer might be more expensive, but it offers the best results and looks great.
Keep an eye out for units that purify and chill water, if that's on your list of must-haves.

Ovens and Stovetops. Gas stovetops continue to dominate in popularity. Depending on your needs, we can look at options that range in burners and size. In our designs, we partner with Wolf/Subzero/Cove, one of the nation's leading brands for kitchen appliances. For ovens specifically they are praised for their sleek look and chef-approved designs.

Dishwashers. Stainless steel models are still in high-demand, although we occasionally see folks request custom paneling to help it blend in with the theme of the kitchen. As you read testimonials for your dishwasher options, keep an eye out for notes on the volume of the dishwasher. You're going to want something quiet, that doesn't disrupt the mood of your home.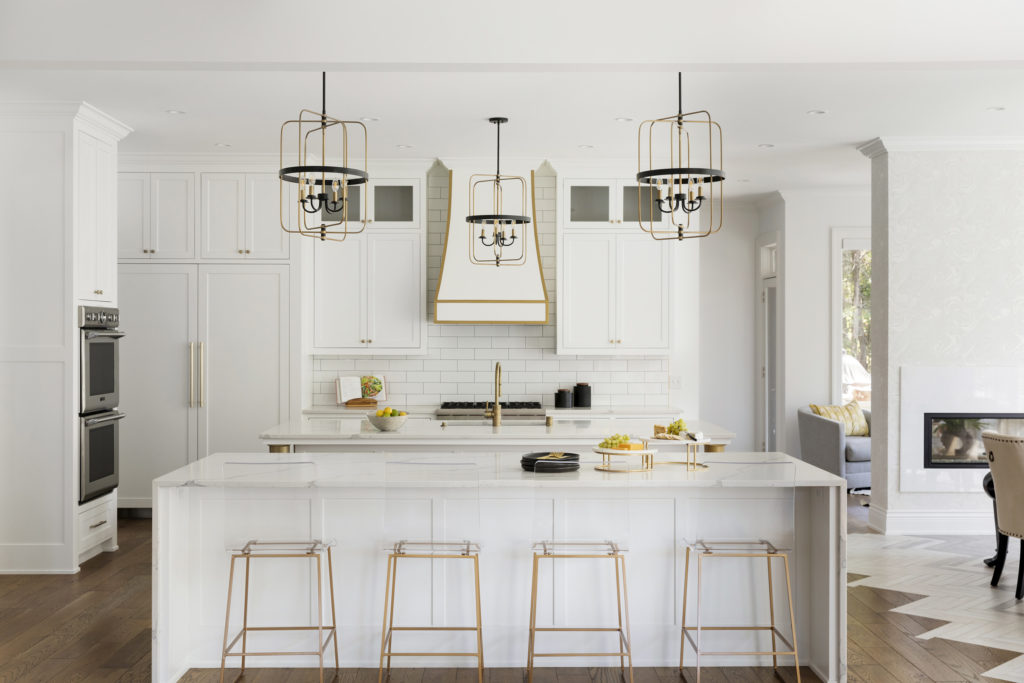 Customizable Kitchen Considerations:
– Steam ovens offer an alternative to microwave ovens. Wolf/Subzero/Cove offers a variety of top-rated choices.
– Don't want your refrigerator/freezer to be visible in your kitchen? We can add in custom paneling so it blends in seamlessly with the rest of the cabinetry.

– Prep and bar sinks offer another place to handle culinary and clean-up needs. If you're planning to entertain, you'll want to incorporate at least one of these options. Additionally, consider adding in a separate dishwasher strictly for bar glassware—this keeps your main one from filling up too quickly.

– Smart kitchen appliances – including smart refrigerators, microwaves, coffee machines – make life more convenient. Program them from your phone and cross one more thing off your to-do list.

– Build-in coffee bars are a must-have addition if you're a java addict. This separate space in the kitchen stylishly displays your coffee accouterments and creates a calm space for your morning routine.

Let's Get Cooking
Have a unique idea? Tell us! We're always open to hearing about your vision and thinking about how we can make it come true. No matter what your dreams entail, ADOR Bespoke Homes can create a kitchen that works for you.
Our goal is to meticulously design your kitchen so that it's exactly what you want. Take a look at our gallery and get inspired for your own home. We can't wait to hear what you have in mind.