For most Minnesotans, wintertime evokes images of coziness. And what's cozier than snuggling with loved ones around a fireplace on a cold winter night? Adding a fireplace to your design adds value and interest, and boosts the overall warmth, both physically and visually! Focusing on beauty and function, here are the latest fireplace ideas and trends of 2021:
Fireplaces That Play with Style
Linear. With their clean frameless designs, one-sided linear fireplaces have become increasingly popular for custom wood and gas designs. The linear style looks elegant and minimalist, particularly if built flush with the wall and without a mantel.
Floor-to-Ceiling. Creating a dramatic focal point for any interior, a floor-to-ceiling fireplace offers tall, vertical flames that draw the eyes upward. An excellent choice for spaces with high ceilings.
Circular. Modern and retro at the same time, a circular fireplace presents views from every angle, especially if finished in all-black or all-white. Suspended from the ceiling, futuristic-looking floating circular fireplaces open up options for furniture arrangement.
Double-Sided. A timeless design innovation is the double-sided fireplace, often used as a division between two spaces, or as an indoor/outdoor option providing views outside to a porch or patio. Indoor/outdoor styles are particularly popular for Minnesota fireplaces, since they can be enjoyed all year round.
Four-Sided Glass. Also known as "island style," this is another versatile design that can be enjoyed from all sides without blocking views. Corner fireplaces or "peninsula" designs pose a compromise between double-sided wall dividers and an open view, by providing a three-sided option.
Scandinavian. Simple, compact, and usually cylindrical, the distinct Scandinavian-style fireplace looks great in the corner of a room. Typically finished in all-white, this design can range from ornate to inconspicuous.
Tech Innovations. The latest innovations include Cool Wall systems and energy-efficient Controllable Heat options, allowing heat to be transferred away from the wall and into the home. This also opens up more decorating options, such as wood or wallpaper finishing and art mounted directly above.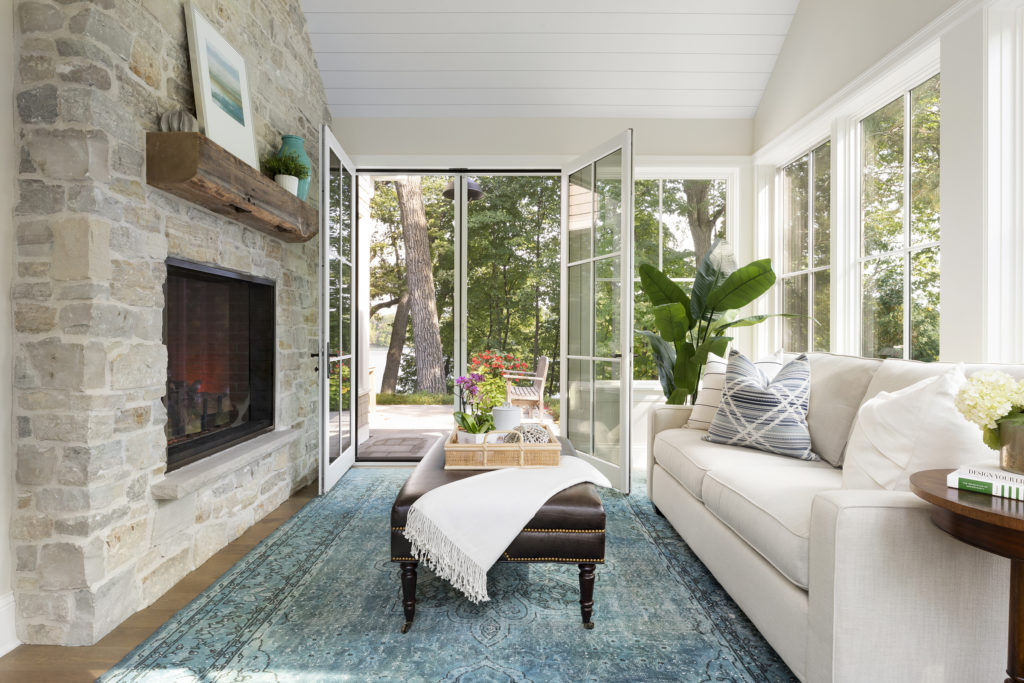 Bold Material and Finishings
Stone. The classic choice for a cottage vibe, stone fireplaces add rustic charm to a space, or dramatic interest if used all the way to the ceiling. Want to modernize the country look? Pair the stone with contrasting design styles. 
Wood-paneled/Shiplap: Presenting a more mid century-modern vibe than stone, the clean lines of wood-panel or shiplap fireplace finishing can dress a space up or down, depending on the grain and patina.
Modern. Latest contemporary designs are seeing fireplaces decked out in marble, copper or other metals, and even mounted on the wall like a TV. This style is usually smaller and acts more as an accent piece rather than a focal point. This makes it a versatile choice for living room fireplace ideas.
Industrial/Exposed Flue: While most fireplaces hide their flue from sight, an exposed single flue creates an industrial look for any space. Exposed flues also offer a variety of options and looks, melding them with other styles, like four-sided glass or round shapes.
Our Recommendations
Take a look at DaVinci Fireplaces for a truly customizable option and for more fireplaces, check out Heat & Glo. We use both fireplace companies depending on architectural style and budget!
Cozy Up in Your Dream House
The team at ADŌR Bespoke Homes looks forward to every single design project we take on. If you're interested in building your very own home, we'd love to chat with you! Whether it's your first time, or you've done it before, we're here to offer unsurpassed support and craftsmanship every step of the way.
Take a look at our previous designs, and don't forget to stay tuned to our blog for educational pieces and custom home inspirations.